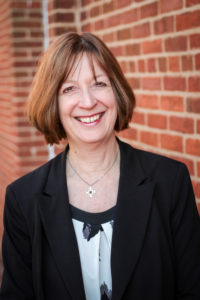 Karen Hotte has elected to step down as Executive Director of the Global Episcopal Mission Network, effective Dec. 31, after almost seven years of dedicated service in the position.
"Between the widespread impacts of the coronavirus on every aspect of our lives, including global mission," Hotte wrote to the GEMN Board in mid-October, "plus the rapid illness and death of my previously healthy younger sister and only sibling, with all of the profound changes that has brought, I have discerned the need to step down as Executive Director by the end of this year, after holding the position for close to seven years and participating in the planning of nine annual conferences. This has been a very difficult and painful decision, but I feel that it is the right time for me to step back and make space for a new call on my life."
Hotte went on to reflect on the work of GEMN: "I have been extremely impressed by the ability of this Board to take over some key pieces of the job and move forward with a strong set of virtual events and offerings, maintain the website and communications, and deliver relevant programming to the global mission community. I am confident that this time will continue to present an opportunity for GEMN to widen its reach and broaden its scope. I am also confident that GEMN is well-positioned, unlike many non-profits, to weather this season with the resources and collaborative relationships to do so."
"Karen has been a key person in the steady growth and stability of GEMN," said GEMN President Titus Presler. "She has helped the Board make strategic decisions and has challenged us to stay focused on the purpose of GEMN and the service we offer to our members. She has developed many personal relationships with people in GEMN's constituency and has encouraged them in their global mission work. We will miss her."
"Karen has been a great gift to GEMN and to the Episcopal global mission community," said GEMN Vice President Grace Burton-Edwards. "She is a tireless global mission advocate and a natural relationship-builder. GEMN has grown and thrived under her leadership. We trust she will continue to share the joy of God's mission in this next chapter in her ministry."
A native of Massachusetts, Hotte began her leadership in GEMN in February 2014. She serves on the Jubilee Global Mission Commission of the Diocese of Massachusetts. Her reflection on the role of prayer in mission appears in Chapter 3 of Questing: The Way of Love in Global Mission, the study series recently published by GEMN.
The GEMN Board has appointed a committee to recommend next steps in the staffing of GEMN in the new year.
Addendum:
Resolution of Appreciation for the Ministry of Karen Hotte as Executive Director of GEMN, 2014-2020
Passed by acclamation by the GEMN Board at its meeting on 21 December 2020.
The Board of Directors of the Global Episcopal Mission Network is deeply grateful to God for the ministry of Karen Hotte as Executive Director of the network from February 2014 through December 2020.
Karen has been diligent and faithful in promoting the public presence of GEMN to its members and throughout the Episcopal Church through an excellent website and frequent email blasts.
Karen has built up relationships with and among GEMN's members – who include individuals, dioceses, congregations, mission organizations and seminaries – through consistent and personal communications at the annual Global Mission Conferences and throughout the year via email and telephone conversations.
Karen has been crucial to the successful implementation of the annual Global Mission Conferences through painstaking advance preparation of program and logistics, including conceptual design, invitations to workshop leaders, registration and financial details, and on-the-ground monitoring and execution during each conference.
Karen has consistently raised before the Board of Directors important questions about the role of GEMN, the network's service to its members, and how GEMN keeps up to date with current trends in global mission.
Karen has been a reliable and stimulating partner with the Board in planning meetings and in ensuring that the Board addresses the most urgent matters at hand, and she has continued to be effective through several transitions in Board leadership.
Karen has strengthened GEMN's collaboration with the Episcopal Church Office of Global Partnerships, expanded GEMN's relationships with dioceses of Province IX, and helped GEMN develop relationships with other Anglican mission networks, especially with the Partnership for World Mission of the churches in England, Wales, Scotland, Ireland and Northern Ireland.
In all these ways Karen has helped guide GEMN, its members and its leaders to be more effective in fulfilling GEMN's call to "ignite the joy of God's mission" throughout the Episcopal Church.
Karen, we thank you! May God bless you in your next stage of ministry. And we look forward to staying in touch.