Dr. Martha B. Alexander
Diocese of North Carolina
On the GEMN Board Martha chairs the Bylaws Revision Committee and the Finance Committee and is a member of the Mission Formation Team.  A member of Christ Church, Charlotte, in the Diocese of North Carolina, she serves on the Botswana-North Carolina Companion Link Committee and chairs the Dispatch of Business Committee for diocesan convention.  Martha is chair of Companion Dioceses for Province IV.  She is a member of the Board of Trustees of the Church Pension Fund and a member of the Executive Council Committee on Historically Black Colleges and Universities.  Martha has served as a deputy from the Diocese of North Carolina to the General Convention since 2003.  She chaired the House of Deputies Legislative Committee on World Mission at the 2015 General Convention, and at the 2018 General Convention she served on the Task Force on the Episcopal Church in Cuba.  Her mission work on behalf of her parish and diocese includes Haiti, Costa Rica, Belize and Botswana.  Martha holds a B.S. from Florida State University, two M.A.s from the University of North Carolina, and the Ed.D. from Northeastern University. 
The Rev. Jean Beniste
Christ Church, Waukegan, Ill.; Diocese of Chicago
"A native of Haiti, I was raised in the Roman Catholic tradition, where I worked as a missionary in Haiti and the Dominican Republic. In 2001, I married Monica Beniste (originally from Mexico) who is the mother our two daughters, Annelise and Solange.  We are an intercultural family with a joyful spirit.  We like meeting people and making new friends, and we love to share our culture with others. I am fluent in four languages, (Creole, French, Spanish and English). In 2003, I was received into the Episcopal Church at Trinity Cathedral in Miami, Florida, where I discerned a call to become an Episcopal priest. I attended the Virginia Theological Seminary and in 2014 was ordained to the priesthood.  I began my ordained ministry at St. Paul's Parish, K Street, in Washington, D.C., and then became the missionary priest-in-charge of Holy Redeemer Episcopal Church, a bilingual ministry in Lake Worth, Florida.  I was later canon for Latino ministry at Christ Church Cathedral, Indianapolis.  I am currently rector of Christ Episcopal Church, Waukegan, in the Diocese of Chicago. As a missionary in the Episcopal Church, I enjoy ministering in cross-cultural contexts and speaking about mission. I dialogue with groups and cultures to discover God's revelation in other cultures and help people discover God in their own culture."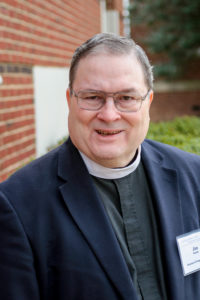 The Rev. Dr. James Boston
Diocese of Oregon
Jim Boston was ordained in 1978 and has been semi-retired since 2009.  A retired Naval Reserve chaplain, he is interim rector of St. George's, Roseburg, Oregon, and chaplain at the hospital in his home town of Grants Pass, Oregon.  Jim has had a lifelong interest in mission, and has visited, worked and worshipped with Anglicans in 23 different countries.  He was on the planning committee for the start of GEMN in 1994, and has served as newsletter editor, board member, secretary and president.  He and his wife Pam, a former missionary in Nepal, have led the Global Mission Committee of their diocese for many years.  Jim has been a deputy or alternate to numerous General Conventions.  His entire ordained ministry has been as a parish priest in the Diocese of Oregon.  Churchwide he has worked with Jubilee Ministries and the National Network of Episcopal Clergy Associations.  He was educated at the School of International Service of American University (Washington, D.C.), Church Divinity School of the Pacific (M.Div.), Oxford University (Cert. Theol.) and Virginia Theological Seminary (D.Min.). 
Mrs. Pamela Boston, Treasurer

Diocese of Oregon

Pam Boston is the treasurer of GEMN.  As a young woman with an associate degree in early childhood education, she sensed God's call to be a missionary.  She left an office job to attend the Lutheran Bible Institute in Seattle, where she earned a B.A. in biblical studies.  Pam was then accepted by the World Mission Prayer League (WMPL), a Lutheran mission society.  After a year as assistant to the executive director, her visa for Nepal was granted.  She was seconded to the International Nepal Fellowship (INF), an international and interdenominational medical mission based in Pokhara, in central Nepal.  Serving in INF's personnel office, Pam  also shepherded a youth group for expatriate youth and helped train Nepali Sunday School teachers.  Upon her return to the US, she took up her former position at WMPL.  After marriage to the Rev. Jim Boston, Pam moved to the Diocese of Oregon, where she and Jim led the Global Mission Committee of the diocese.  They have participated in short-term mission trips in Tanzania and Kenya.
The Rev. Jaime Briceño
Bexley Seabury Seminary
Jaime has served since 2016 as the recruiter and digital missioner at Bexley Hall Seabury-Western Theological Seminary Federation in Chicago, where he has developed online open houses and virtual reality tours to reach a more diverse group of students.  A native of Costa Rica, he is fluent in English, Spanish and Portuguese.  Ordained a transitional deacon in 2019, he serves as ministry associate at St. Mark's Church in Glen Ellyn, Illinois, a multi-cultural and bilingual community where he has assisted with mission trips to Mexico, Madagascar and Appalachia.  His global mission involvement began with international border issues in the Roman Catholic Diocese of New Mexico, and Jaime is currently enrolled in GEMN's Mission Formation Program.  He holds the B.A. degree from Conception Seminary College and the research M.A. degree in systematic theology from Catholic Theological Union.  He taught ethics at La Universidad Latinoamericana de Ciencia y Tecnología in Costa Rica.  "Missionary activity plays an important role in bringing aid and spiritual comfort to war-torn and poverty-ravished areas," he says.  "I hope that every seminary student will have the opportunity and expectation to participate in at least one mission trip during their studies."
The Rev. Dr. Grace Burton-Edward, Vice President
St. Thomas Church, Columbus, Ga.; Diocese of Atlanta
Vice president of GEMN, Grace is a member of the Global Mission Commission of the Diocese of Atlanta, which supports a relationship with the Diocese of Cape Coast in Ghana. Grace has served as rector of St. Thomas Church in Columbus since 2014 and is a member of the General Convention's Standing Commission on World Mission. Originally ordained as an American Baptist pastor in 1994, she served in American Baptist, United Methodist and ecumenical settings before discerning a call to the Episcopal Church, where she was ordained a priest in 2007.  Grace graduated from Mississippi College in Clinton, Miss., attended Southern Baptist Theological Seminary in Louisville, Kentucky, completed the M.Div. at Christian Theological Seminary in Indianapolis, and a D.Min. in congregational development at Seabury-Western Theological Seminary.  She and her husband Taylor have two adult sons.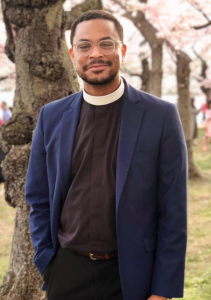 The Rev. Maurice Dyer
St. David's Church, Radner, Penn.; Diocese of Pennsylvania
Maurice has served as assistant rector at St. David's in Radnor, Penn., since his 2019 graduation from Virginia Theological Seminary.  A California native who grew up in San Diego, he holds a B.A. in social and behavioral science from California State University at Monterey Bay.  Maurice then served as a Young Adult Service Corps missionary in South Africa, where he lived in a Benedictine monastic community with monks and taught at the school that they oversaw.  He then moved to Cape Town, where he worked at an institute assisting people in healing from trauma, particularly related to the South African apartheid years.
Ms. Jenny Grant
Global Partnerships Department, Episcopal Church Center
Jenny serves as the Officer for Global Relations and Networking in the Office of Global Partnerships at the Episcopal Church Center.  She develops mission-related resources, maps companion relationships across the Anglican Communion, shares the story of Episcopalians engaged in global mission, and works on other projects supported by departments across the Presiding Bishop's staff.  Prior to this position, Jenny served as a Young Adult Service Corp missionary in Kenya and a contractor on the Asset-Based Community Development initiative, "Called to Transformation."  She is passionate about the intersection between faith and justice around the world and cares deeply about how the Episcopal branch of the Jesus Movement is participating.  Jenny completed undergraduate and graduate degrees in social work and non-profit management at the University of Georgia.  She lives in Alexandria, Virginia, with her husband Jared and their dog Bella.
The Rev. Holly Hartman
Diocese of Massachusetts
Holly is a deacon who is the diocesan missioner for global mission partnerships in the Diocese of Massachusetts.  She became involved with global mission through leading her former parish to begin and nurture a long-term relationship with a community in Haiti.   Serving on the diocesan staff since 2012, she has had the opportunity to assist many parishes with their global mission ministries, including discernment, formation and accompaniment.   She has traveled to many countries and witnessed how God's mission is present all over the world in various and beautiful forms.   Holly has served on the board of GEMN for six years and has greatly enjoyed meeting and learning from many like-minded people in the Episcopal Church who are passionate about global mission.  Her current focus with GEMN is to coordinate the Mission Formation Program.   Holly is married to Lester Hartman, a pediatrician who is passionate about public health issues.  They have two adult daughters, a son-in-law, and a beloved dog Buttons.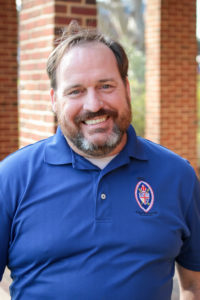 Mr. William Kunkle
Dominican Development Group; Diocese of Southwest Florida
During his decades as a mission leader Bill has organized, led and/or facilitated more than 500 short-term mission teams.  Bill was the founder and president of Kunkle Contracting, Inc., a Florida-certified firm based in the Tampa area.  Since 2012 he has served as executive director of the Dominican Development Group, which carries out a wide range of mission work, program support, development and self-sustainability initiatives with the Episcopal Diocese of the Dominican Republic.  This include dozens of short-term mission trips each year from dioceses throughout the Episcopal Church and from other denominations.  Bill served as an appointed missionary to the Diocese of the Dominican Republic through the DFMS for six years and has recently transitioned to the Episcopal Volunteers in Mission program (EVIM).  Bill has served on the Companion Diocese Committee of the Diocese of Southwest Florida for 17 years.  He is one of the founding board members of the Province IX Development Group (PDG), which assists dioceses in Province IX and beyond to develop sustainable programs and diocesan self-sufficiency. Since the recent passing of Dr. Bob Stevens, Bill has been PDG's interim executive director while the board searches for new director.  On the GEMN Board Bill has been especially active in logistics and organizational development consultation.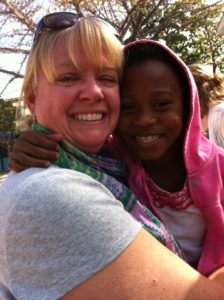 Mrs. Christine Mercer
Diocese of Alabama
Christine serves with the Department of Mission and Outreach in the Diocese of Alabama. She chairs the committee on mission and outreach at St. Stephen's Church and serves on the Board of Directors of the Honduras Agalta Valley Education (HAVE) Foundation. Her passion is for organizing and leading short-term mission teams to international locations.  A lifelong Episcopalian, Christine joined the GEMN Board in 2017 and served as Board secretary 2018-2020.  Christine holds a bachelor's degree in business and psychology and a master's degree in social work from the University of Georgia.  She lives in Birmingham, Alabama, where she is married and has two grown children.
Ms. Molly O'Brien, Secretary
Diocese of Virginia
Molly is secretary of GEMN.  With a passion for learning about people and cultures, she has taught high school Spanish in independent schools, developed competency-based graduation plans for immigrants and refugees, and helped women re-enter their communities and the workforce after incarceration. Currently she is administrative coordinator for the Center for Anglican Communion Studies at Virginia Theological Seminary. The center seeks to connect seminarians and faculty to the breadth of theological and cultural perspectives of global Anglicanism through speakers, cross-cultural study programs, and collaborations with institutions around the world to promote reconciliation and global mission. After visits with Cristosal in the Iglesia Anglicana de El Salvador, Molly helped found the Vermont-based Cristosal Base Community.  She holds a bachelor's degree in Spanish and anthropology from Smith College.  Molly lives in Alexandria, Virginia, with her wife, the Rev. Veronika Travis, her dog Otto, some fish and a rabbit named Bunnito.  She is a member of St. Luke's Church in Alexandria.  
The Rev. Canon Dr. Titus Presler, President
Diocese of Vermont; Bridges to Pakistan
President of GEMN, Titus is an Episcopal missiologist with extended mission experience in India, Zimbabwe and, most recently, as principal of Edwardes College in Peshawar, Pakistan.  Educated at Harvard, General Seminary, and Boston University (Th.D.), he is former president of the Seminary of the Southwest and academic dean of General Seminary, and taught at Episcopal Divinity School, Harvard Divinity School and Pittsburgh Seminary.  He specializes in mission theology and gospel-culture interactions.  Former rector of St. Peter's Church in Cambridge, Mass., he was a researcher for the Global Anglicanism Project and a consultant for the Anglican Indaba Project.  He is a member of the American Society of Missiology and the International Association for Mission Studies.  He is member of the board of Bridges to Pakistan, visiting researcher at Boston University, vicar of St. Matthew's Church, Enosburg Falls, Vermont, and coordinator of Green Mountain Witness, the Diocese of Vermont's evangelism initiative.  In addition to numerous articles and book chapters, he is author of Transfigured Night: Mission and Culture in Zimbabwe's Vigil Movement, Horizons of Mission, and Going Global with God: Reconciling Mission in a World of Difference.  He blogs at TitusOnMission.wordpress.com.  He and his wife Canon Jane Butterfield have four grown children and seven grandchildren.